To judge from last weekend's Winter Jazz Fest, a two-night club crawl that showcased about 60 of the improvised music scene's most innovative acts, the spirit of the '70s loft jazz portrayed in Love Goes To Buildings On Fire is thriving. In fact, it seems more alive than ever.
There's a great roundtable discussion about the event on NPR's A Blog Supreme, which drives that point home.
One of the best sets I saw was by Mostly Other People Do The Killing. I could watch Kevin Shea play drums for hours. Here's a clip from a few years ago; during his solo, he partly dismantles his kit, and sticks a gum wrapper on his nose. We're talking IMPROV here, people!
NPR Music recorded many of the festival sets, and should be posting some on their site in the coming days. Stay tuned.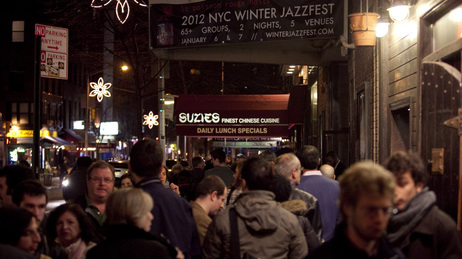 (photo by John Rogers)