Back in 2006 I did a story on David Byrne for The New York Times. He was rehearsing a piece called Here Lies Love in a Chelsea loft space. At the time, it was a multi-media production for live rock band and video projections which told the story of Imelda Marcos, her husband Ferdinand, her ex-boyfriend Benigno Aquino, and Estrella Cumpas, the woman who raised her.
Byrne told me he envisioned it as a sort of musical taking place not in a conventional theater but in a huge dance club (Imelda was a major disco fan and a devotee of Studio 54). But funding was an issue, there were other considerations, and after one performance at an arts festival in Australia that year, its future was uncertain.
The music was performed in a program at Carnegie Hall the following year, and in 2010 it turned up as a handsome book/CD/DVD combo package, recorded with an unlikely all-star cast of singers (Tori Amos, Florence Welch, Santigold, Shara Worden, Steve Earle, and others) each taking a shot at a song in the cycle. It didn't all gel, but it gave the piece a corpus and a continued life.
Now Here Lies Love is being reborn akin to Byrne's original vision, as a full-on singing-dancing musical production in something like a dance club space. Last night, a friend with an extra ticket (Sarah LaDuke of WAMC/Northeast Public Radio) took me to see the work-in-progress debut at the ever-forward-looking MASS MoCA in North Adams, Massachusetts. Since it's a work-in-progress, I don't intend this as a review, just as a few observations.
The music, some of which was co-created by Fatboy Slim, wasn't live, thought the singing was, and there were still audio issues to iron out. But mostly the songs sounded great, evolving through r&b, funk, disco, and more modern club beats as the story unfolds over the years. There are a number of new songs in other styles, too, and everything was sung really well by the cast members, most of whom were dancing vigorously with headset mics, in the spirit of modern pop spectacle. It was part Bollywood, part Evita, part Glee, part those charmingly cheesy post-American Bandstand song-and-dance shows you see on Asian TV.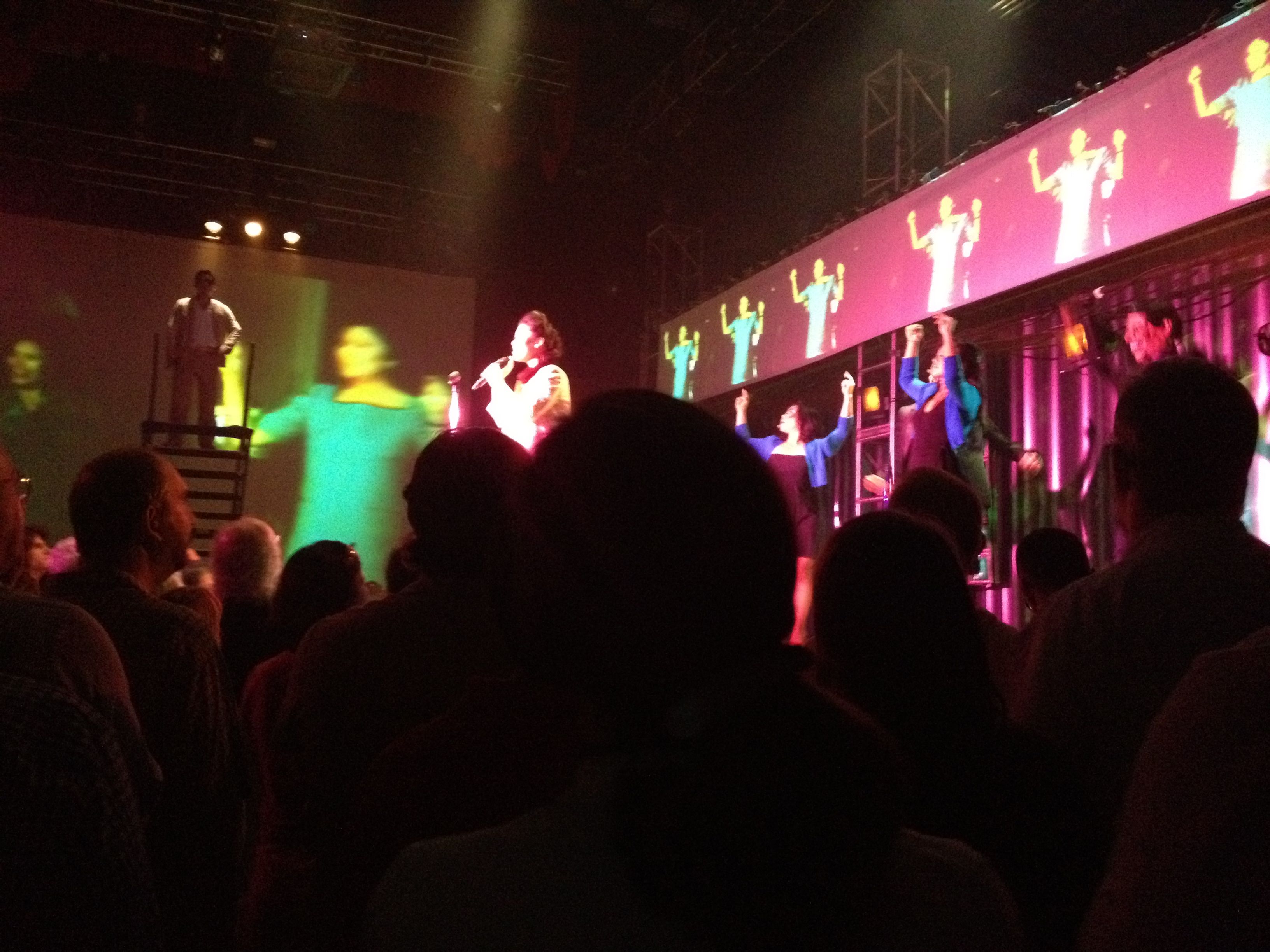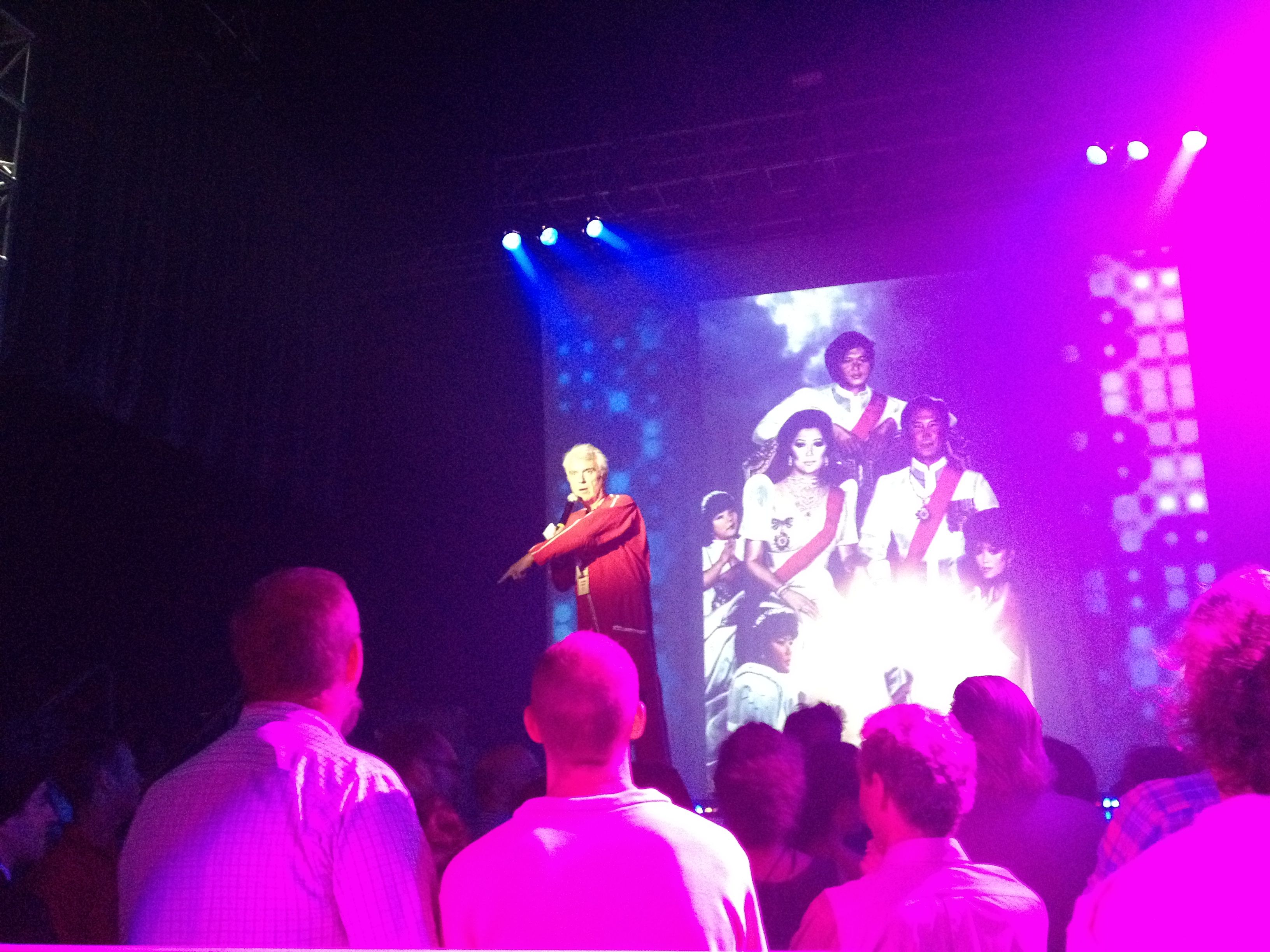 The modular set, which surrounded us, morphed throughout the play. We were standing and moving about in the space, as you would in a disco, so you had to be attentive; "audience wranglers" in the crowd helped steer you one way or the other. A central platform—which Byrne, in his pre-show instructions for the audience, wryly called "The Blender"—bisected the space and rotated periodically. Sometimes you felt like you were in one of those old Batman TV episodes when the walls of a tricked-out room are slowly closing in to crush Adam West. There was frequently activity on two or three "stages" simultaneously, along with video projections on an array of screens. During the Marcos' wedding scene, we were served champagne and cupcakes. The audience was often enlisted to dance, sometimes with step instructions. At one point, we all wound up on stage, and the performers were below us on the floor.
Narrative details were sometimes lost in the immersive swirl of all this. There were no spoken parts; the story advanced via lyrics, action, and data bytes that flashed by on the video screen (presuming you were facing in the right direction). But the signposts and emotional arc of the narrative came through plenty clear, and it was fascinating to multitask as observer and participant. I can't wait to see the finished production when it opens at the Public Theater in New York in April.
Here's a shot (by actor Evan D'Angeles) of some cast and crew outside of MASS MoCA; that's Byrne at the right rear: