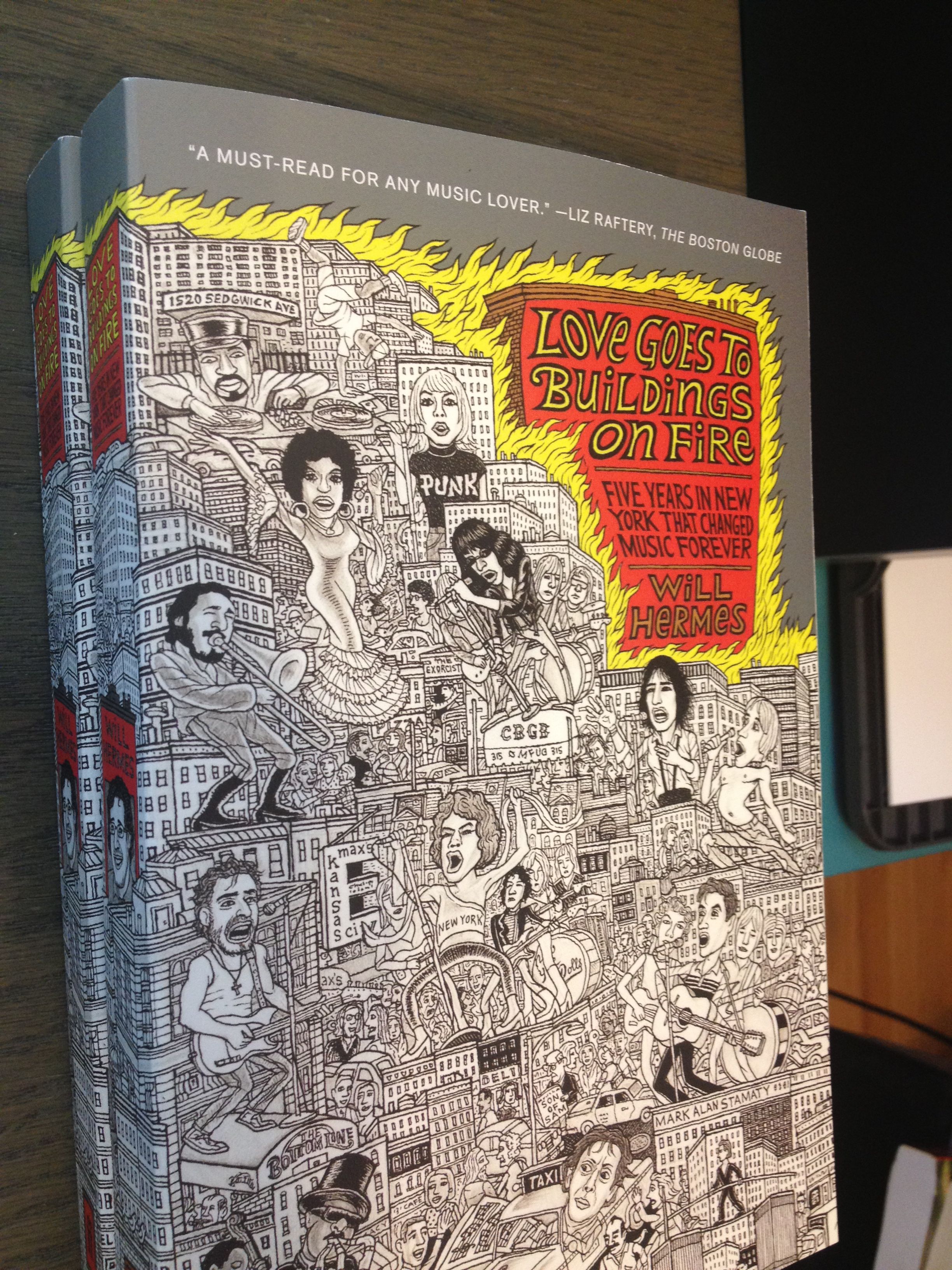 So Love Goes To Buildings On Fire is out in paperback Tuesday. Woo-hoo! Pick one up.
In other news, here's my review of the new Bob Dylan record, Tempest, for Rolling Stone.
There's a section of Love Goes To Buildings On Fire where I write about reading two reviews of Bob Dylan's Blood On The Tracks in Rolling Stone back in 1975. Humbling to be part of that lineage.
Here's that section, with links that, one day, will be embedded in the e-book version.
And then I heard Bob Dylan's Blood On The Tracks, released on January 17th. Dylan had begun writing songs for the record in Minnesota last summer. His 9-year marriage to Sara Lownds, aka "Sad Eyed Lady of the Lowlands," aka Shirley Nozinsky, was crumbling, and he'd been having an affair with a 24-year-old A&R woman at his label. That spring, he'd returned from his self-imposed exile upstate in Woodstock to his old stomping ground, Greenwich Village. He'd begun taking art classes with a guru-like 73-year-old teacher, Norman Rabaen. Scruffy and undercover, Dylan would hail a cab uptown to Carnegie Hall and take the elevator to the 11th floor studio spaces, where Rabaen schooled him in new ways of seeing and chastised him like any other student. Dylan loved it, and applied the new ideas to his songwriting. Sure enough, Blood was a profoundly visual, almost cubist work of storytelling, unlike anything Dylan had done before, and born, like much of his work, from seeds planted in New York City.

For me, it was the record that showed me how bone-deep music could make you feel. British prog-rock records were brain teasers—fun to ponder, like an MC Escher etching. But Blood On The Tracks pushed its calloused fingers into my chest like an Aztec priest trying to rip my heart loose. Hyperbole? I was fourteen, hormones fresh-squeezed. I'd had my heart broken: at sleep-away camp, in homeroom. When Dylan sang "he woke up/the room was bare/he didn't see her anywhere/he told himself he didn't care," I knew exactly what he meant. I'd lie on the blue-green shag carpet of my Queens bedroom, and when side one ended—if I was feeling in a particular mood—I'd click the switch on the BSR turntable in my compact stereo and play it again. Other times, I'd flip the LP and listen to "Lily, Rosemary, and the Jack of Hearts," which I could visualize like a film, each scene played out in Dylan's magically compressed verses. Blood On The Tracks was a Niagara Falls of words, its rush of language soothing, instantly familiar; its creation famously split between Minnesota and New York, its verbal momentum all New York City—you can imagine Dylan as a cabbie, cruising down the Grand Central Parkway from La Guardia toward the limitless skyline, telling his tales: half-invented, all true.

It's fascinating to listen to the New York City Blood sessions, originally released as a bootleg on vinyl, now floating around the internet. The most striking track is "Tangled Up In Blue," with key lyrics cast in third person—a subtle shift in language, an entirely different emotional result. The album's revised, superior version, largely re-written in first person, was recorded at 11th hour sessions on Dylan's old home ground in Minneapolis. It makes me think about New York as a culture of aliases, masks, and personal reinventions. Dylan was abandoning certain masks; maybe he needed to go home to remember how to be himself.

In March, Rolling Stone ran two separate reviews of the record in the same issue. Jon Landau compared Dylan to the aesthetic revolutionary Charlie Chaplin; Jonathan Cott invoked Rimbaud, Baudelaire, and Dante. Landau's piece ran over 2000 words, Cott's over 3000. I remember studying the reviews and researching their sources for some clue as to why the record made me feel the way it did. I never quite got to the bottom of it. But the writers' seriousness of purpose, and their sense that the entire world of art and culture and human emotion could be compressed into a vinyl recording, left an impression on me.